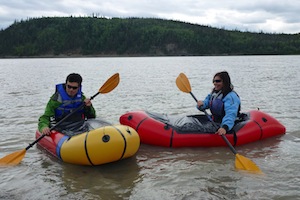 Dr. Ben Abbott graduated with a BS degree in Watershed and Earth Systems in 2009. He undertook a PhD program at the University of Alaska in Fairbanks with Dr. Jay Jones.
In 2012, Ben participated in the film The Tipping Points of the High Arctic where he examined the rate of melt of the Permafrost.
This summer he began examining the impacts of the melting of ice in the soil on soil stability and the transport of sediment and nutrients into lakes and streams.
Recent increases in soil temperatures promote increased landslide activity. Ben will be measuring the impact of these land-slides on aquatic ecosystems.