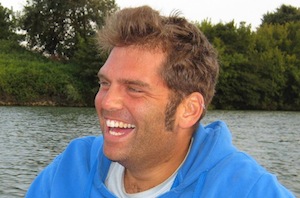 The primary questions I hope to further over my research career are 1) How does agricultural expansion impact the terrestrial energy and water balance?; 2) How does this relationship influence local and regional climate?; and with an understanding of 1 and 2, 3) What are the climate and land-induced factors of water scarcity in agrarian communities and how can these communities adapt to these vulnerabilities?
I completed my dissertation with the Climate Hazards Group at the University of California-Santa Barbara (UCSB: http://chg.geog.ucsb.edu/) in 2010.  The title of dissertation, Modeling Evapotranspiration in sub-Saharan Africa: A Tool for Food Security Analysis, developed a land surface model that estimated water released into the atmosphere via plant transpiration and soil evaporation (evapotranspiration: ET) for sub-Saharan Africa. Evapotranspiration is an underutilized modeling component of the terrestrial water and energy balance that is essential to improving other modeling components, for drought monitoring, and to our understanding of vegetation dynamics.   In my Climate Dynamics publication, titled, Examining evapotranspiration trends in Africa, I estimated significant declines in ET across the Sahel, though agricultural land use is expanding.
I will be completing a Mendenhall Postdoctoral Fellowship with the United States Geological Survey at the end of this year to begin a new position as a climate change scientist with the World Agroforestry Centre (http://www.worldagroforestrycentre.org/) in Nairobi, Kenya.  While there, I will use the techniques in hyperspectral remote sensing and image fusion that I developed during my postdoc, to map long-term trends in agricultural expansion and deforestation in central African rainforests.
The central African rainforests are an important source of moisture, however, its demise and impact on local rainfall and more distant sources (the Sahel) during the West African Monsoon is relatively unknown.  I hope to use these maps, together with land surface models coupled to boundary-layer climate, to quantify these impacts for the first time.
Links:
A press release: summarizes the work and points out the implications of this paradox.
http://www.usgs.gov/blogs/features/usgs_science_pick/evapotranspiration-studies-could-help-keep-africas-sahel-green/